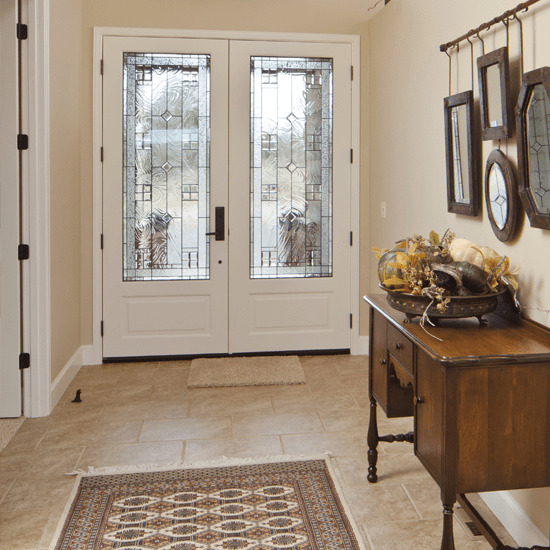 Whether you're selling your home or simply inviting friends or family over, it's always nice to make a good impression and what better place to do it than your foyer or entryway? While some are fortunate to have a high-ceilinged front hall, even a small vestibule has the potential to dazzle.
Here are a few of our preferred ways to make a grand entrance:
Through the looking glass: A mirror is a must, particularly in a smaller room. It brightens and visually expands the space making it more welcoming plus it gives you one last chance to make sure everything is in order when you're headed out (or for your guests on their way in). If there's room, hang some photos or artwork on either side of the mirror.
Let there be light: A light fixture is a must but the style is entirely up to you. Whether you prefer something modern or a classic chandelier, consider a fixture that drops down vertically giving the illusion of additional height.
Underfoot: Position an all-weather rug to protect wood flooring or tiles, which can get slippery in rainy or snowy weather. If the rug is patterned, run it in the same direction as you move into the house.
Thanks a bench: If you have room for a large table in the middle of the foyer, go for it. If the space is smaller, consider a wood bench that acts both as a table for a few frames, books or a pot of flowers as well as seating to put on and remove shoes. Plus, under the bench is a perfect space to line up shoes and boots.
Ella-ella-ella: Choose a corner by the bench for a beautiful umbrella stand or a sturdy vase that can act as one. It adds a classic yet practical touch and takes up a minimal amount of space.
You'll find more beautiful entryway ideas here and here. How have you made a spectacular first impression in your foyer? Share your ideas in the Shop Talk Blog community forum!