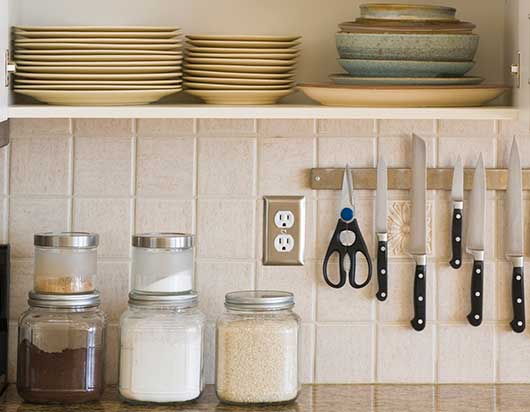 A modern, stylish kitchen might not turn any of us into Jamie Oliver or Nigella Lawson but it can definitely make everyones favourite space more pleasing. Trouble is, between new appliances, countertops, flooring and cabinets, the kitchen is usually the most expensive room in the home to remodel. And, we still have to put food on the table afterwards, right?
The good news is there are tons of smart ways to upgrade your kitchen without upending your budget. Here are just a few ideas:
Butcher block: Many of us dream of granite countertops but custom stone can cost up to $250 per square foot or more to buy and install. Butcher block in a variety of hardwoods and grains can cost half that. Its durable and practical and matches any style or colour kitchen.
Under foot: Wood flooring gives a kitchen a dramatic and contemporary look but its often not an ideal material for such a high traffic area. Inexpensive flooring options like tile, linoleum or cork are available in an assortment of designs and colors with less of a risk of expensive damage due to water, wear and tear.
MDF: A backsplash isnt just practical, it can pull together stylish elements from your entire kitchen. While mirror and tile are popular, medium-density fiberboard, also known as MDF, with a few coats of semi-gloss paint, is a ridiculously inexpensive alternative. Its easy to clean and you can change the colour anytime. Alternatively, for an industrial look, try stainless steel or copper sheets, which patina nicely over time.
Open shelving: Cabinets are another budget-breaker in many kitchen renos but you can halve your costs by installing below-counter cabinets and replacing those above with open shelves, ideal for displaying copper pots, glasses or dishes. Its a modern solution that can, particularly in smaller kitchens, completely open up your space.
Paint: Its amazing what a fresh coat of paint can do, particularly in the kitchen. While rich dark colours work well in living rooms or bedrooms, choose bright hues in the kitchen. Even better, go for white.
Check out here and here for more great budget kitchen makeover ideas and remember to share your suggestions and tips in our Shop Talk Blog community forum now!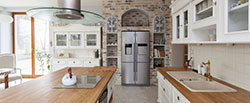 Did you know?
The cost of new countertop materials varies widely. Here are just a few options and their approximate price range per square foot:
Laminate
$22-$52
Tile
$23-$124
Butcher block
$32-$200
Metal
$87-$250
Concrete
$75-$200
Quartz
$105-$187
Granite
$95-$225
(Source)