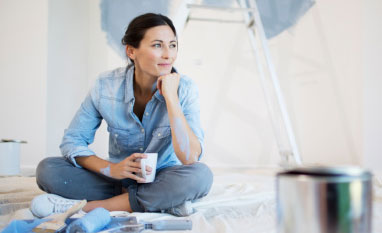 Its estimated that the human eye can distinguish between one to ten million different colours, which frankly could make choosing the right paint shades for your home a little overwhelming.
Luckily, with few simple tips and shortcuts, giving your walls a fresh, inexpensive makeover is a lot easier and more fun.
First, dont actually start with the paint. Step back and take a look at the colour of your furniture, rugs, art and accessories. Do you see any colour patterns emerging? A lot of browns or blues or greys, for instance?
Say theres a lot of blue in your living space. Next, consider these three paint colour avenues:
Monochrome: Consider paint colours that are tones of the blue in your room. Choose one paint swatch that matches the blue, then choose one lighter and another thats darker. Use this trio of hues on walls in the room, hallways, doors and crown moulding.
Analog: Instead of different shades of blue, another option is to choose colours next to blue on a colour wheel like green, indigo or purple. Select a few shade swatches of each colour and see how they blend with the blue in your room.
Complementary: For something more bold and dramatic, consider matching your rooms dominant colour in our case, blue with its complementary shade on the colour wheel in our case, orange.
Alternatively, if your furniture and accessories are already colourful, you may decide to go with a white gallery wall effect. Technically, white isnt a colour, its the combination of all colours of the visible spectrum. Nevertheless, keep in mind theres still a variety of whites to choose from from creamy to cool white, warm, antique ivory and more.
Whichever colours youre considering, narrow them down to a manageable number like three or four then buy sample sizes and paint areas of your room. Remember to paint walls close to windows as well as in darker areas of the room natural and artificial light affect the colours differently and see how they change throughout the day and in the evenings.
No matter what colours you choose, dont sweat it. If one isnt working after you paint it on, it simply takes another trip to the paint store and a few more hours of your time to change it. When it comes to paint, theres no colour that cant be corrected.
Wondering what 2015s top colour trends are? You can find them here.
Whats your favourite new or classic colour? Share your opinions in the Shop Talk Blog community forum now!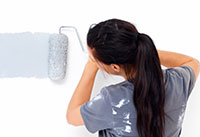 Did you know?
How much paint do you need for your walls? The exact coverage depends on the quality of the paint but the industry standard is 350 sq. ft. per gallon. Thats a 12 x 12 room (8 ceiling height with a door and window) with one coat of paint.
(Source)