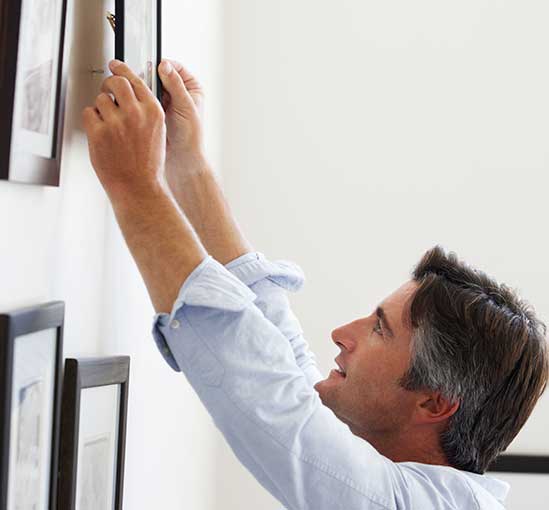 Wall art is an important finishing touch that can add personality and life to every room. But for many of us, when we do hang art, its often the wrong height or size or presented in a way that fails to do justice to the work.
Here are some basic tips for hanging art just right:
Do your homework: Dont randomly hang a frame just anywhere. Step back and examine the room if its a long wall, think about horizontal pieces or groupings. If a table or sofa rests against a wall, visualize which pieces can frame and compliment the furniture best. If you have ceiling pot lights, think about what pieces are best to be highlighted.
Windows: Unless your art is protected with UV glass, avoid hanging expensive or unique art pieces in direct sunlight, under strong lighting or near heating. And remember that humidity will likely damage art over time, so avoid hanging valuable works in bathrooms or in your front entrance.
Height: Unless youre creating a grouping of frames, avoid hanging art too high, which most people do. The middle of a frame should be approximately 145 cm off the floor. If youre hanging art above a sofa, there should be 15 to 20 cm between the back of the couch and the bottom of the frame. For art above a table or credenza, leave 25 to 30 cm.
Groupings: Groups of frames are a beautiful way to dress up tall or long walls but they can take a lot of time and effort to put together properly. Begin by placing all the frames you want to hang onto the floor. Rearrange them as needed keeping in mind the frames dont need to be form an even straight line with one another at the top or bottom but there should still be a sense a balance from left to right and in height. Try choosing one dominant frame then floating the remaining frames around and remember the dominant frame doesnt need to be in the middle, think of it simply as the one piece that anchors all the others. The frames should be a variety of sizes but try to ensure theres about 8 to 10 cm between every frame and that, when its hung, the dominant frames centre is 145 cm off the ground. Make sure the horizontal length of the entire grouping is centred on the wall, unless youre planning on adding more frames later on. If youre hanging a row of identically sized frames, use a horizontal line of painters tape on the wall to make it easier to place your nails.
Singles: For a large, dramatic piece of art, consider hanging it alone but make sure there is still about 15 cm of wall on each side and below the work.
Mirrors: Large mirrors can be a clever way to brighten up a room or make it look bigger. If its over 1.8 m high, consider leaning it against a wall or horizontally over a sofa or mantle. Make sure to use strong enough hardware if youre hanging a heavy mirror.
Go here for more art hanging tips and please share your own tips in our Shop Talk Blog community forum now!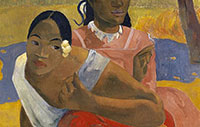 Did you know?
When Will You Marry Me? by Paul Gauguin, sold privately in February for close to $300 million US the highest price paid to date for a painting.
(Source)