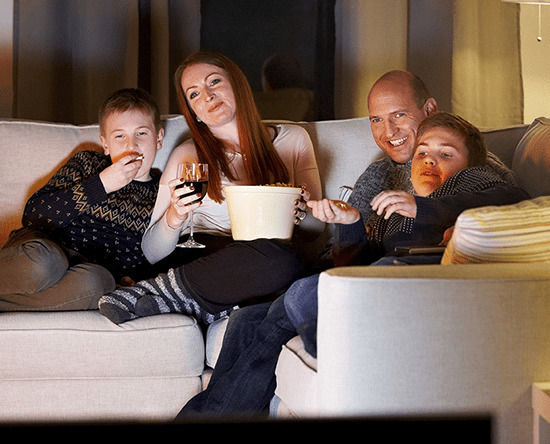 We used to call it a home theater and, before that, the den or family room. But todays modern media room takes comfort and technology to a whole other level. Thats because its not simply about a big screen TV and a puffy sofa with cup holders. Its about satisfying all your senses.
Here are the five basics to creating your media room refuge:
Proportion: Most of us dream of a big screen but be conscious of the size of your room depth, length and height. You want the screen as the focal point but it shouldnt dominate the entire space particularly if youre planning on using the room for multiple purposes. (See Multi-media below.)
Cozy and classy: Shop around for a modern sofa and side chairs that satisfy your homes style requirements when the screen is off and comfort when its on. This isnt a man cave or your moms old off-limits living room, and its not quite a traditional home theater with cinema seating. Stay away from slippery, sticky leather or vinyl and go for warmer plush fabrics that feel relaxing. Add blankets to curl up with and puffy pillows to rest your feet on. If you have hardwood floors, a soft rug under your toes will complement the esthetic.
Clutter: Be realistic about the size of your room and the number of guests likely to share your media room experience. Make sure you have enough seating without overcrowding the room. Consider slipper chairs, which can be left by the window or the back of the room, and pulled into the main viewing area when you need them.
Lighting: No media room is complete without glare control. Shop for versatile shades that open top-down and bottom-up, giving you the ability to prevent glare from hitting your screen while still letting some outdoor light in. If you prefer a true theatre experience, there are blind fabric options and curtains that offer maximum opacity. As for artificial lighting, stick with recessed pot lights and a floor lamp or two on dimmers, of course.
Multi-media: While most people think of a media room as a place to watch movies or TV in style, members of your family might also enjoy using it for other media to read, play video games, listen to music, surf the internet or spend time on their favorite hobbies. Brainstorm different ways the room may be used and plan accordingly.
Have you built the perfect media room? Then please share your tips and ideas in the Shop Talk Blog community forum!