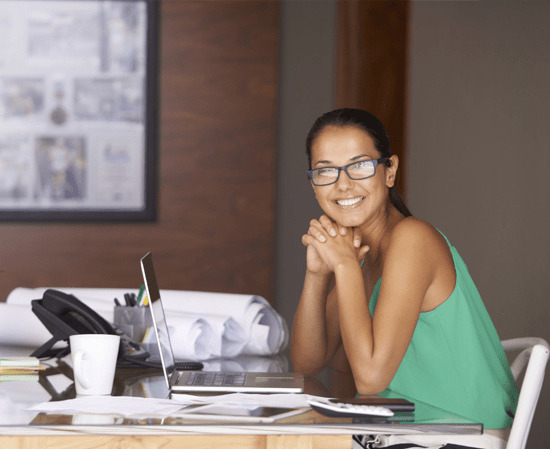 Working from home — or telecommuting — is big and it's getting bigger. Some 23% of businesses offer home work option and 18% of employed Canadians say they roll out of their bed and into their office chair at least some of the time. Factor in entrepreneurs too and a lot of us now call home our workplace.
As an at-home worker, you could save between $2,000 and $7,000 in transportation and other costs annually, a nice bundle of cash to help create a healthy and productive home office you'll enjoy working in.
Here are 3 ways to make telecommuting work for you:
Location: You're going to be doing real work, not your taxes, so don't make your kitchen your office. Choose a spare bedroom, if possible, or an area of your home where you won't hear your kids playing video games or your spouse on the phone.
Home office, not office home: You don't have to work in a drab office so don't replicate that environment at home. Give yourself ample space, plenty of natural light, a desk light, an ergonomic chair and a large enough computer screen. If looking out the window won't distract you (much), orient your desk so you face a window — heck, your boss had a corner office with a view, why shouldn't you?
Smart filing: While you don't want to work in a tiny impersonal office cubicle, you may not have a huge space to devote to your home office. Be sure to organize filing and storage effectively in a way that complements your work style — drawers or filing cabinet, for instance, but not boxes or piles on the floor. Except for your most pressing to-do items, keep your stored papers behind you or in a closet while you're working.
You'll find more great home office design ideas here and here. Do you work at home? Tell us about what you love — or dislike — most about it and how you make your home office space work for you in the Shop Talk Blog community forum!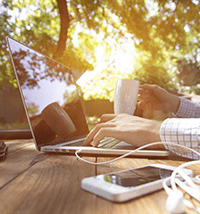 Did you know: Alberta tops telecommuting?
Some 34% of Alberta businesses offer telecommuting to their employees, BC is second at 26% and Saskatchewan and Quebec are tied for third. (Source)