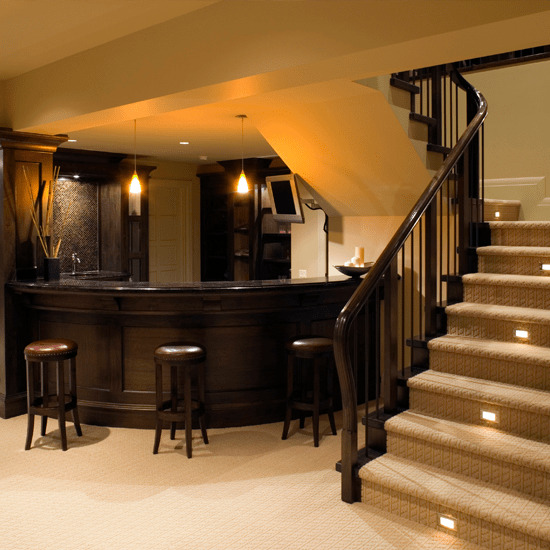 You might say it's the age of the basement. In the last century, below-ground spaces in homes were often viewed simply as storage. But, increasingly, with kids moving back, aging grandparents moving in or the need or desire to create a rental space, basements have become an integral and livable part of the home.
If you're thinking of finishing or remodeling your basement, here are a few suggestions, as well as things to think about and avoid:
What do you need it for? Basements can be cavernous and undefined so, unless you're an architect, it's tough to imagine how best to divvy up the space. Decide what your needs are an entire apartment, with a living room, bedroom, kitchen and bathroom? And if so, will you want access to the basement from outside to maintain privacy upstairs? Or are you just looking for more space for your family an extra bedroom, game room, den? And if so, should you finish the whole space or just renovate one area? Before you get started, start asking questions.
Do your research: Municipal building codes usually require basement bedrooms to have direct access to the outside through a door or window. Ask a building inspector or the municipal planning department for guidance on what you're allowed to do before you get started, especially if youre thinking of renting it out as an apartment. Speak to building experts about any structural considerations, like tearing down walls or pillars.
Ceilings, floors and windows: Basements are often dark and gloomy. You may want to consider digging out the basement floor to increase the height of the ceiling and enlarging windows by digging window wells. You'll also want to install good lighting, including recessed lights and lamps. These improvements might be pricey but they'll make the space more livable particularly if you're planning on renting it out or inviting a family member to live there long term.
Cover-up: Basement surfaces are usually concrete. To make the space as homey as upstairs, you'll need to cover surfaces with plywood, drywall and paint (on the walls and ceiling) and flooring. Keep in mind, solid wood floors are not a good idea because temperatures and humidity make them more susceptible to warping. Consider engineered hardwood, laminate, tile, cork or carpet.
Storage: However you finish your basement, don't forget to leave a sizable space for all your stuff! Storage may no longer be the primary use for your basement but it's still important.
Heating, Ventilation and Cooling: Unless the basement is waterproof, its likely to be damper than the rest of the house and more susceptible to mold. Youll want to consult a Heating, Ventilation, and Air Conditioning (HVAC) expert to help manage the ambient temperature and air flow to prevent mold.
You'll find some common basement finishing mistakes here. And, as always, please share your own tips, suggestions and basement renovation experiences with other members in the Shop Talk Blog community forum!