The holidays may be great for catching up with family and friends, shopping for deals and chowing down on delicious home-cooked meals. Its also the perfect time to plan a winter destination getaway or community activities to get you through the cold weather doldrums.
Here are 6 money-saving tips if youve got the travel bug this season:
Book your trip early: Planning a getaway a few months or even weeks out can save you a bundle. Last-minute airline fares tend to cater to business travellers who have little choice in when they book flights, so airlines hike up prices.
Book last minute: In spite of what we just said about booking early, sites like priceline.ca feature discount rates on available hotel rooms and flights. You may not get exactly the location or dates you want, but if youre flexible you can save a lot.
Book off dates, days, times and airports: Travelling when everyone else isnt can knock significant amounts off flights and hotels try booking flights on Christmas Eve, for instance, or hotels in New York after December 15 or Las Vegas the weekend after New Years. Flying Saturdays or mid-week is often cheaper, so is early morning and late night.
All-inclusives: If youre looking for a tropical getaway, make sure it includes all meals, snacks, drinks and alcohol some even include 24-hour room service. Try get away before the New Year as prices often double in January, February and March.
Maximize weekends: If you dont have a lot of vacation days left at work, book a 4- or 5-day long weekend so youre only using two or three paid vacation days.
Read ratings: Before you book, google the destination and consult sites like tripadvisor.com to see what others thought of the hotel or resort. Stay away from places with smelly rooms, moldy bathrooms, noisy neighbourhoods or polluted beaches.
What an amazing trip closer to home? Here are some of Canadas coolest winter travel destinations no passport required according to readersdigest.ca:
Northern Lights in Churchill, Manitoba
Skating on Ottawas Rideau Canal
World Pond Hockey Championships in Plaster Rock, NB
Skiing, snowmobiling, dog sledding in Newfoundlands Snow West
Dogsled excursions in Saskatchewan
Maple syrup tasting in Nova Scotia
Snowboarding and snowshoeing in PEI
Celebrate with Bonhomme Carnaval at Quebecs Winter Carnival
Icewine tasting in Niagara-on-the-Lake, Ontario
If youre on a tighter budget and a getaway isnt in the cards this year, here are 6 fun and creative activities for you and your family:
Transform your backyard into a winter wonderland with ice candles.
Visit your local library or download a couple of books and start a winter book club.
Enlist your neighbours and set up a month-long weekend board game championship.
Create a backyard weather station for you kids.
Build the perfect winter fort.
Travel to distant stars and galaxies from the comfort of your own lawn.
Also, check your city or towns website for community activities all winter-long.
How are you planning on getting through the winter? We always love hearing your suggestions!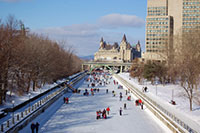 Did you know?
What are Canadas best ski destinations?
Love skiing? Here are Canadian Livings top 5 best places to ski: Whistler Blackcomb and Sun Peaks, British Columbia, Banff/Lake Louise, Alberta, Mont Tremblant and Le Massif, Quebec.